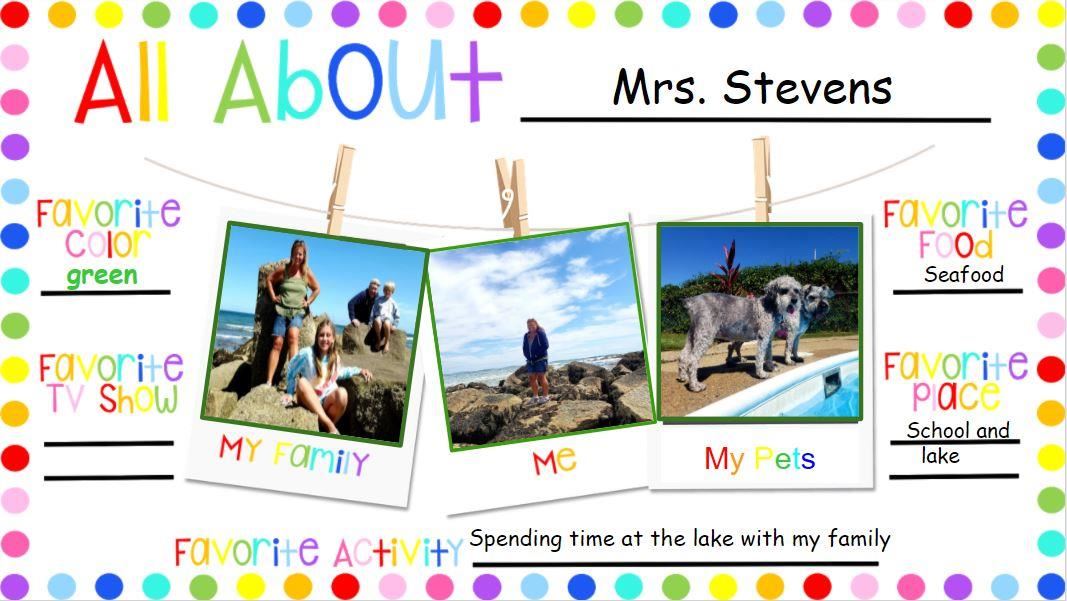 Phone:
Email:
Degrees and Certifications:
Mrs.

Tara Stevens

Welcome to Kindergarten! I'm very excited to be your teacher this year. I look forward to getting to know all of you, and I thought you might like to get to know a little bit about me.

I married my husband, Mr. Stevens, in 2006. We first expanded our family with a dog that we named Noodles (you will hear me talk about her and all of my family members a lot!). We now have another dog named Wooly. A few years later, our daughter Cora was born. She is now an active, smart, funny 6th grader. She loves to read, practice her mental math skills, play soccer, and swim at the lake. A few years later, we welcomed a little boy, Billy. He is 7 years old and loves to play on his tablet, read Piggie and Elephant books, and play with his Batman figures. He is in 2nd grade this year! I love to tell my students lots of tales of things I do with my family, so be ready to hear all about them!

I have been working at Central School since 2001. It merged with Main Street School and for many years we were Rosa Parks Community School. Now, we are in our maiden year of once again being Central Elementary School, only this time we are specifically grades K-2! I am so excited for a new beginning! It has been, and continues to be, a pleasure to spend my entire teaching career in Orange. I taught 3rd and 4th grades before moving to Kindergarten in 2010. I'm lucky enough to have Miss Hutchins as the paraprofessional in our Kindergarten class. She is a wonderful asset to your child's year of learning in Kindergarten!

Additionally, we have a student teacher for this entire year, Miss Hassan. She is an Education major at Seton Hall University and will be joining us on Wednesdays and Fridays for the first half of the year (through mid-December), and 5 days a week from January - mid-May. Miss Hutchins and I have hosted student teachers before, including two last year, and it is always a wonderful bonus for the students in our class to be a part of such an experience. Welcome, Miss Hassan!