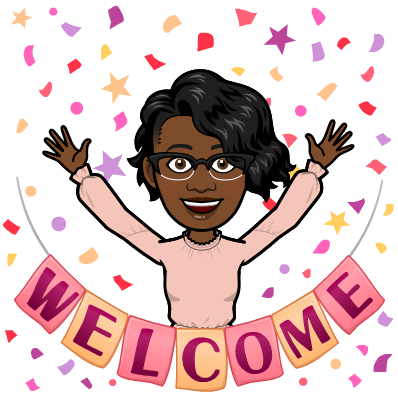 Phone:
Email:
Degrees and Certifications:
Mrs.

Linda Ngoye
Kindergarten
ngoyeli@orange.k12.nj.us
linghaSu@orange.k12.nj.us
Dear Parents and Students, Welcome to the Extended Learning Resource Page. This page was created to provide students working from home with access to assignments, links, assessments, and practice resources. Additional information and daily updates can be found on the district's COVID-19 Resource Page found at https://www.orange.k12.nj.us/domain/3058.
A Letter form the Principal, Denise White:
https://www.orange.k12.nj.us/cms/lib/NJ01000601/Centricity/ModuleInstance/32447/CES%20Parent%20Letter%2020-21%20Revised%20and%20Approved.pdf
Office Hours for Mrs. Ngoye & Mrs. Lingham: 8:30 A.M.-11:45 A.M. & 1:00 P.M. -3:20 P.M.
You may contact me via email or Class Dojo. My e-mail address is ngoyeli@orange.k12.nj.us
On Tuesday August 11, 2020 the Board of Education approve Plan B as outlined in the School Reopening Plan (please see the School Reopening Guidelines 2020- 2021). Plan B will be structured to address the needs of our students while following the health and safety guidelines outlined by the Department of Education. Based on Plan B:
o September 8, 2020 through November 25, 2020 (Phase 1 (100% Virtual Learning) and Phase 2 (Remote Synchronous) all students will attend school virtually.
o November 30, 2020 through December 23, 2020 (Phase 3 Soft Launch) students needing additional support return to the site on an abbreviated schedule and day this includes SWD, ELL and Tier III students.
o January 4, 2021 through June 24, 2021 (Phase 4: Full Re-Entry) all students return to the site on an abbreviated schedule and day.
Students are expected to completed the given assignment by the end of each day. Written assignments will be completed in the notebook. Parents are expected to take a picture of the completed work and send in a PRIVATE MESSAGE to the teacher on CLASS DOJO to be assessed.
General Expectations: Student responsibilities in completing the assignments include:
- Identifying a comfortable and quiet space to study/learn
- Dedicating appropriate time to learning, as guided by your teachers
- Routinely checking for assignments on a daily basis
- Engaging in the virtual platforms with academic honesty, integrity, and according to the district's Acceptable Use Policy
- Submitting all assignments in accordance with provided timelines and/or due dates
EXTENDED LEARNING RESOURCES