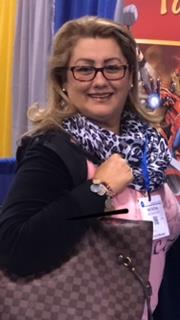 Phone:
Email:
Degrees and Certifications:
Mrs.

Natacha Betancourt

WORLD LANGUAGES TEACHER SPANISH

Welcome to a new school year,

2022/2023
Learn, grow, succeed, and be the best that WE can be!
Queridos padres y estudiantes:
Bienvenidos a la Clase de español. On this website, you will find useful information to be successful in Spanish. You can check homework (tarea), and links that will give you further practice in Spanish. Please check out all the links and get familiar with the website.
One of my personal goals is to make my students comfortable using Spanish. To achieve this, the class will be conducted mainly in Spanish and the students are expected to be active listeners and participants. As we all know, languages are learned through practice, and making mistakes is part of learning a language. We can use these mistakes to learn from them. At home, encourage your child to teach you Spanish if you don't speak it or practice it with you, even if you only know just a few basic vocabulary structures.
To encourage your children and facilitate their learning of the language, it is helpful if you ask them what they are learning in Spanish and see if they are willing to teach you some of the songs or vocabulary words that they are learning. Even if you know no Spanish at all, your contribution of time and encouragement during the Spanish class is very appreciated and will be helpful to the students. We invite all parents to participate in any way they can. It is also helpful to know if your children are talking about Spanish at home and sharing things with you. Please let me know as this information is valuable to me in planning extra activities for the class.
I hope we all have a great year and please do not hesitate to contact me if you have any questions or concerns.
Cordialmente,
Mrs Betancourt
World language Spanish teacher
Last Modified on June 22, 2022