Pandemic Electronic Benefits Transfer (P-EBT)
Pandemic Electronic Benefits Transfer (P-EBT)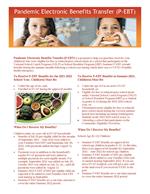 P-EBT is a program to help you purchase food for your child(ren) who normally would get free or reduced-price meals at school but couldn't due to reduced school attendance or hours.
New Jersey received P-EBT approval for children under age 6 enrolled in SNAP between September 2021-June 2022 and summer 2022. In addition, summer 2022 P-EBT is approved for students in grades K-12 in the 2021-2022 school year who were eligible for the National School Lunch Program.
For more information, visit www.NJSNAP.gov.