Orange Public Schools
Gerald Fitzhugh, II, Ed.D., Superintendent of Schools
Return to Headlines
The Orange Township Public School District proudly announces "OrangeWeek 2023!" from Saturday, June 3, 2023 - Saturday, June 10, 2023. Orange Week, now in its fifth year, celebrates community pride, highlighting neighborhood activities, businesses, and nonprofits in Orange. The annual theme for Orange Week is "Are you in?".
"OrangeWeek2023!" is launching on June 3, 2023, with our District Spelling Bee and District Tennis Tournament in collaboration with the USTA Eastern, NJ Symphony, Orange Recreation, and the Althea Gibson Foundation at Central Playground (351 Central Avenue, Orange, NJ) at 10:00 am.
On Saturday, June 10, 2023, during the "OrangeWEEK2023! Color Festival" at Monte Irvin Orange Park, starting at 9:00 am, two special events are being featured:
5K Color Run/Walk/Roll and Bike Rodeo

District STEM Festival. In addition to the featured events, there will be music, bouncy houses, arts & crafts, health screenings, vendors, food trucks, and more!
Please follow our district social media for updates, including school and district events that will take place during our week-long celebration.
To register and participate in our 5K Color Run/Walk/Roll event, use the QR code on the flyer or link at http://bit.ly/448TT1u.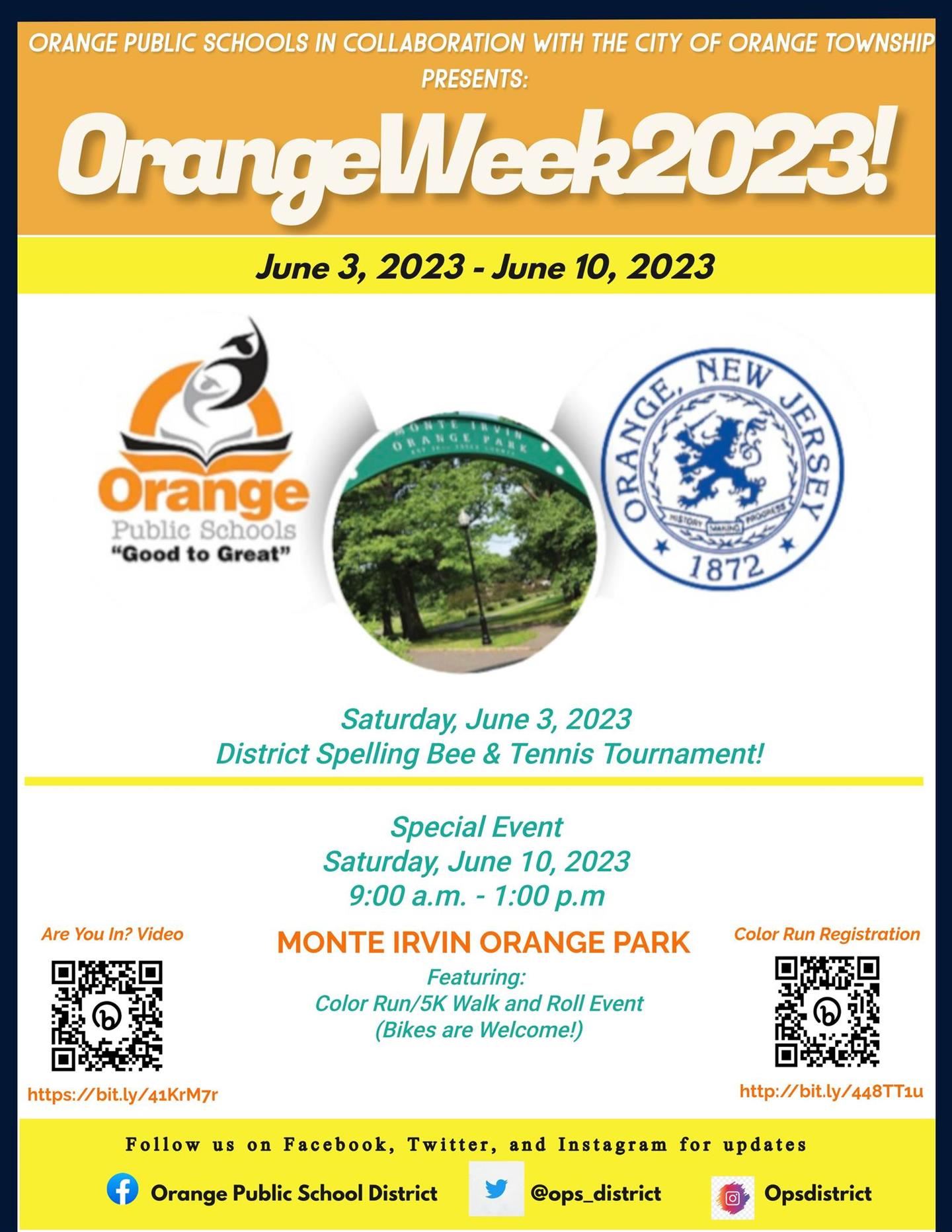 To learn more about OrangeWeek2023!, view our video introduction.
You're online. We're online. Let's connect.