Orange Public Schools
Gerald Fitzhugh, II, Ed.D., Superintendent of Schools
Return to Headlines
Peace Islands Institue's 10th Annual Art and Essay Contest Mention Award Winner
Congratulations to STEM Innovation Academy of the Oranges 11th grader Ebony Nkrumah who won a "Mention Award" in the High School Essay Category of the Peace Islands Institute's (PII) 10th Annual Art and Essay Contest.
Congratulations also to Ebony's English Language Arts teacher Mr. Mathews, Principal Lima, and Assistant Principal Dr. Reid.
The contest theme this year was "Solidarity in the Middle of a Pandemic." PII will celebrate contest winners on Thursday, January 28, at 6 PM in a virtual awards ceremony.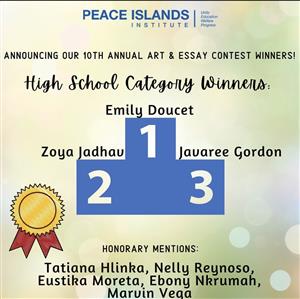 The 2020 Art & Essay Contest
This year's theme, "Solidarity in the Middle of a Pandemic," is consistent with PII's mission of promoting pluralism and bringing people from different backgrounds together. The Art and Essay (A&E) Contest aims to:
Bring middle and high school students from around the state of New Jersey together.
Promote awareness on issues of common concern among New Jersey youth.
Facilitate their personal and academic growth through a healthy competitive environment.
Inspire them to make a positive change in their communities.
Since its inception in 2010, the A&E Contest attracts submissions from around 200 New Jersey schools. The contest consists of two categories, art, and essay, and is made up of two participant categories, middle school (grades 6 through 8) and high school (grades 9 through 12). Each participant can compete in one or both of the art and essay categories.
You're online. We're online. Let's connect.