Orange Public Schools
Gerald Fitzhugh, II, Ed.D., Superintendent of Schools
Return to Headlines
"Orange Week 2020!, June 8 - June 12"
The Orange Township Public School District is proud to announce the launching of "Orange Week 2020!, June 8 - June 12". This is the second year of the initiative, which celebrates community pride and highlights neighborhood activities, businesses, and nonprofits that operate in Orange, NJ. The theme for the initiative is "Are you in?". Orange Week 2020! provides an opportunity for the community to connect and rally around a series of events designed to create greater awareness about all of the great things that are happening and resources available in the city. Due to the COVID-19 pandemic, all events will be "virtual" this year.
In 2019, the initiative was originally planned as a week of events; however, it has quickly expanded to events happening throughout the month of June. Events were scheduled all around town from June 3rd to June 29th. We would like to extend that opportunity for this year as well. If you are hosting events that are happening during the week, please use the hashtag #OrangeWeek2020 with your social media posts.
For your reference, please see the
link below to view some flyers promoting events happening throughout the week:
One of the highlights for this year's initiative is the District-Wide Virtual Spring Arts Festival!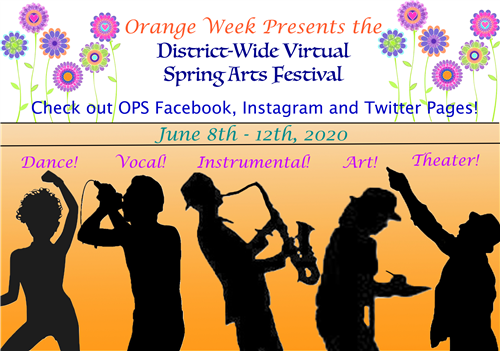 But wait...there's More!
Heywood Avenue School's very own, Mr. St. Jean, aka DJ A+, will be hosting a Live DJ event on Wednesday, June 10, 2020, 4pm -5pm! Check the district social media and website for updates regarding the link to this amazing event! Please spread the word: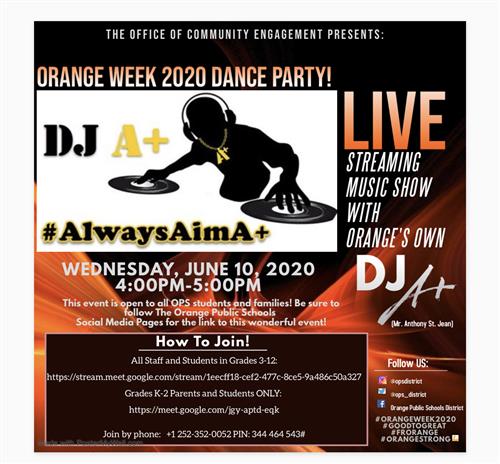 You're online. We're online. Let's connect.