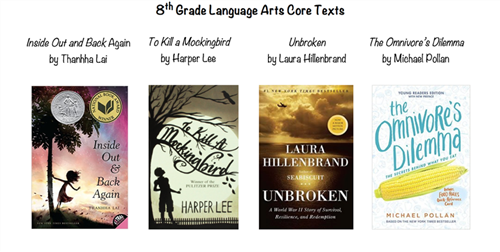 Phone:
Email:
Degrees and Certifications:
Course Content

Module 1 – Finding Home: Refugees – Inside Out and Back Again by Thanhha Lai
Focus: Reading Closely and Writing to Learn
Students consider the challenges of fictional and real refugees. They read the novel Inside Out and Back Again, analyzing critical incidents that reveal the dynamic nature of Ha, a 10-year-old Vietnamese girl whose family flees during the fall of Saigon. They also read complex informational texts to learn more about the history of the war in Vietnam, the historical context of Ha's family's struggle, and the universal themes of refugees' experiences of fleeing and finding home.
Module 2 – Taking a Stand – To Kill a Mockingbird by Harper Lee
Focus: Working with Evidence
Students will read several speeches from real people who took a stand, and then immerse themselves in a study of To Kill a Mockingbird by Harper Lee. They engage in a character study of Atticus—analyzing his actions and words, and what others say about him—to better understand his willingness to take a stand for others. Students also consider "the Golden Rule" and how it surfaces in the novel.
Module 3 – Japanese-American Relations in WWII – Unbroken by Laura Hillenbrand
Focus: Understanding Perspectives
Students study the important yet divergent experiences of war and conflict, specifically WWII, as they read Unbroken, which tells the story of Louis Zamperini, an American prisoner-of-war in a Japanese camp, alongside an informational text about a Japanese American who was interned in a relocation camp in the United States.
Module 4 – Sustainability of the World's Food Supply – The Omnivore's Dilemma by Michael Pollan
Focus: Research, Decision Making, and Forming Positions
Students learn how to make evidence-based decisions as they consider the issue of how to best feed all of the people in the United States. They analyze Michael Pollan's arguments and evidence (as well as the arguments in other informational texts and videos) to determine whether sufficient and relevant evidence has been used to support the claim.